Wheel of Karma Wall
The Wheel of Karma Wall is one of the few places to escape the summer heat and climb in the shade at the Upper East Fork. This wall is located downstream from the Monster Wall about 200 yards, across from the Easy Slab.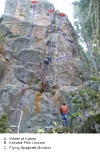 Wheel of Karma Wall
Invisible Pink Unicorn 10d
FA: doni, Vaino Kodas, 2010
Start in a short left facing corner. Climb up to and follow the right slanting crack above. 6 or 7 bolts?
Flying Spaghetti Monster 12a
FA: Vaino Kodas, doni, 2010
climb through the first three bolts of IPU and then traverse out right. 10 bolts?