The Far Side II

Go
Go 10c/d
FA: Vaino Kodas, Jen Payne, 2008
This route is just right of Chess and Checkers. The name refers to another well-known board game. Two different starts will take you to a ledge with a small pine tree. Clip the first bolt from this ledge and then continue up the corner above. 5 bolts?

Watch Out For That Tree
Watch Out For That Tree 12b
FA: Vaino Kodas, Bryan Pletta, 2005
This route is just around to the left from Lonesome Dove. Angle up right across a broken face to an overlap. Difficult moves after the overlap lead to sustained climbing to the anchors. Have an alert belayer so you do not hit the tree if you fall. A challenging pitch. 8 bolts.

Don't Miss Out and Sinister Base
Don't Miss Out 9
FA: Jen Payne, Vaino Kodas, 2007
This route starts about 10 ft. right of P Whipped. Climb past a beginning bulge to an arete just right of a right facing corner. Gain a big ledge and climb up off the right side of the ledge. Move sharply left and then up the flat brown striped face to the anchors. 7 bolts
Sinister Base 11c
FA: Vaino Kodas, Mike Tritt, 2005
This route starts about 20 ft. left of P Whipped. Begin in a large right facing corner below a roof. Exit the roof and then move right to a smaller right facing corner leading to the anchors. 7 bolts.

Extra Cheese
Extra Cheese 11c/d
FA: Vaino Kodas, Regina Dickens, 2005
This is the thin crack just right of Fine Line, near the Pizza Block. Tricky liebacking leads to a difficult move past an overlap and then some engaging moves to the anchors. A fun route. 7 bolts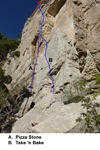 Pizza Stone and Take 'n Bake
Pizza Stone 10a
FA: doni, Vaino Kodas, 2011
This route is just right of Blonde Ambition. Start just left of the Pizza Slab and climb up into a right facing corner. Follow this corner until you can exit left near the top to gain a brown face. Near the last two bolts avoid the small cactus and lesser quality rock on the right. The finishing anchor is just right of the anchor for Blonde Ambition. 7 bolts

doni on Take 'n Bake
Take 'n Bake 10b
FA: Vaino Kodas, doni, 2011
Start at the base of the big leaning block known as the Pizza Slab. Climb past three bolts to the top of the slab. Lean over left to clip a bolt on Pizza Stone and then join Pizza Stone. 7 bolts